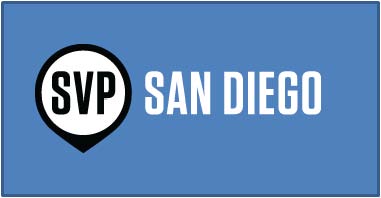 www.sdsvp.org
San Diego Social Venture Partners (SDSVP) is made up of individuals with business, technology, and professional backgrounds. Partners invest their time, talents and resources in the San Diego community. Partners are Venture Philanthropists providing financial and business expertise to help non-profits accomplish their mission.
Our Mission
San Diego Social Venture Partners cultivates effective philanthropists who drive community solutions with investments of time, expertise, and resources.
Core Values
INVEST
Accountability - We believe in monitoring and measuring results.
Respect – We believe in treating each other and the nonprofit community with respect.
ENGAGE
Education –  We believe in providing continual education.
Innovation – We believe in challenging the status quo and taking calculated risks to test innovative ideas.
TRANSFORM
Leadership – We believe in creating the organization that we expect of others.
Sustainability - We believe SVP should be part of the long-term solution for our community.
How Do We Do This? We Go Beyond Philanthropy.
SVP does more than give away money. We amplify the impact of those out to do good in four distinct ways:
Investing in Nonprofits
Engaging in Shared Learning
Connecting Philanthropists
Investing in Collaborative Solutions