Sustainability has become a passion. The goals are:
– Learn about sustainability.
– Make our home/property in Durango an energy producer with off grid capability.
– Act in a more sustainable manner at all times.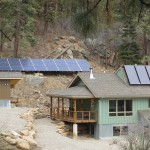 The above picture (click to expand) shows the photo-voltaic (PV) panels on the hillside. The PV system produces 7.200 kWp of electricity. There is a battery backup system in case of a grid failure. The solar thermal system is on top of the house. The solar thermal system heats up glycol and then transfers the heat to both the hot water system and the in-floor radiant heating system in the house.
Please browse the following interactive online reports to see the performance of the PV system. This system has been fully operational since Jan 11, 2013.
Plant Profile
Plant Overview
Energy and Power
Annual Comparison
Battery Backup
Please browse the following website to see the performance of the solar thermal system. This system has been fully operational since Jan, 15 2014. However, the Heliodyne heat exchange has been replaced twice. The third heat exchange was installed in September 2017. The Heliodyne software for the below public dashboard is not very robust. As of October 10, 2017, it was broken. 🙁