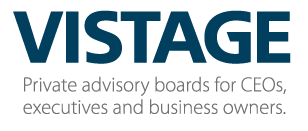 On an October morning in 1957, a Wisconsin businessman named Robert Nourse met with four chief executives in the office of the Milwaukee Valve Company to test a simple, but revolutionary idea—by sharing their knowledge and experience, they could help each other get better results for their businesses. Soon this group of businessmen was probing, asking questions and making suggestions. They challenged each other, working together to solve issues and to grow. In that moment, TEC (The Executive Committee) was born.
Today, over 50 years later, Vistage International (TEC changed their name) and its global affiliates have more than 14,000 members in 16 countries, representing the world's leading CEO membership organization. Members meet in small groups every month under the same guiding principles—to help one another make better decisions, achieve better results for their businesses, and enhance their lives. They're also connecting in ways Nourse could never have imagined back in 1957, collaborating over the Web, tapping into a vast online resource library, and learning from hundreds of unmatched expert resource speakers.
Vistage serves its members via 3 different styles of groups, groups for CEOs, groups for Key Executives and groups for trusted advisers of businesses. Vistage members are more successful than their competitors and, on average, grow their revenues at twice the percentage growth rate after joining Vistage.
Vistage's Mission Statement
Dedicated to increasing the effectiveness and enhancing the lives of Chief Executives.
Since 2007, I have run a pro bono Vistage on Campus group comprised of students enrolled in the Flex MBA program at the UCSD Rady Business School. It is free to the students. The strength of the Group comes from their diversity. The common threads for the members are a passion for learning and a willingness to share/learn/explore sensitive business and personal issues.
Only if you are driven to learn and grow, should you consider Vistage membership.
If you are interested in learning more about Vistage membership and being part of the best executive leadership, training, mentoring and coaching organization in San Diego and the world, please contact me.